Foam Expansion Tubes
When greater expansion rates of foam solution are needed, a foam aeration tube can be quickly attached to many of Elkhart Brass' combination fog nozzles.
Call us TODAY at 727-835-0657 or
Toll Free at 800-761-4298
Get A Free Quote!
---
---
XD Foam Tube
Designed for use when greater foam expansion rates are needed, the XD Foam Tube is an ideal accessory for any XD handline fog nozzle. The tube is an aluminum and composite design combining maximum durability in a lightweight package. Featuring an internal Hydroverter screen which optimizes the finished foam by increasing agitation and large air inlets. The tube is secured by a single locking lever for quick and easy attachment/removal.
---
Catalogs
---
Fire Hose Reels Available from
mdi
Hannay - Fire Hose Reels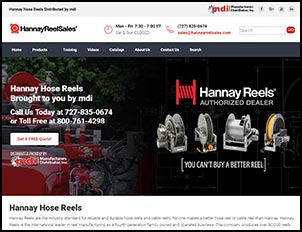 www.hannayreelsales.com
Hannay
Fire Rescue Hose Reels make deployment and pickup times faster so you and your crew can work more effectively and efficiently when every second counts.