Butterfly Suction Intake Valves
---
Butterfly Suction Intake Valves
Elkhart Brass offers a special cast iron, butterfly valve with Elk-O-Lite® end caps for use as a suction intake in apparatus applications. The valve features an aluminum/bronze disc, reinforced EPDM seat (bi-directional) and a two-piece stainless steel stem. It is also rated to 200 psi, finished in red urethane enamel with polished chrome hand-wheel and hard anodized end caps. The gear operated version complies with NFPA 1901.
• Click Here For Accessories
Get A Free Quote!
---
s = Standard o = Optional
* Intakes only, excludes adapter options
---
Catalogs
---
Fire Hose Reels Available from
mdi
Hannay - Fire Hose Reels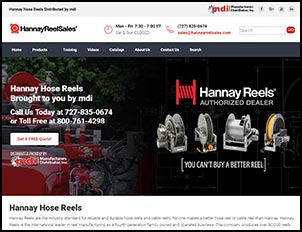 www.hannayreelsales.com
Hannay
Fire Rescue Hose Reels make deployment and pickup times faster so you and your crew can work more effectively and efficiently when every second counts.