Fixed System
Designed for use in fixed system applications. Adjustable nozzles can be pre-set at the factory or set in the field at time of installation. The fog pattern, which can be set up to 120°, can easily be set or adjusted at the job site.
• Click Here For Fire Hose Nozzle Selection Guide
Call us TODAY at 727-835-0657 or
Toll Free at 800-761-4298
Get A Free Quote!
---
Figures depict general product types only and are not intended to be inclusive of all product features.
---
Catalogs
---
Fire Hose Reels Available from
mdi
Hannay - Fire Hose Reels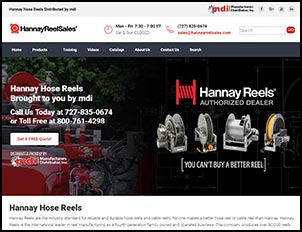 www.hannayreelsales.com
Hannay
Fire Rescue Hose Reels make deployment and pickup times faster so you and your crew can work more effectively and efficiently when every second counts.