Built-In Foam Eductors
Elkhart offers built-in foam eductors for all handlines (pipe sizes of 1.5" and 2"), and the eductors are compatible with most foam concentrates. The built-in eductors come furnished with valves, fittings and accessories for installing permanently behind the panel in pump compartment.
• Click Here For Accessories
Call us TODAY at 727-835-0657 or
Toll Free at 800-761-4298
Get A Free Quote!
---
---
s = Standard o = Optional
* Victaulic available
---
Catalogs
---
Fire Hose Reels Available from
mdi
Hannay - Fire Hose Reels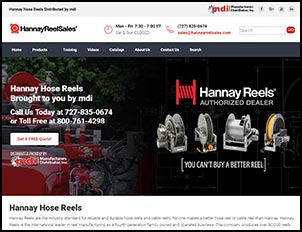 www.hannayreelsales.com
Hannay
Fire Rescue Hose Reels make deployment and pickup times faster so you and your crew can work more effectively and efficiently when every second counts.