Models
---
Click to View Traditional Apparatus Selection Guide
---
800 Series
Brass construction
Adjustable, teflon impregnated neoprene seat
Pressure rated to 250 psi (17.2 bar)
Available with remote and direct manual handle actuators
---
2800 Series – HYDRO-LOC®
Brass construction
Self-locking mechanism
Adjustable, teflon impregnated neoprene seat
Pressure rated to 250 psi (17.2 bar)
Available with remote and direct manual handle actuators
---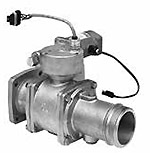 2900 Series
Brass construction
UHMWPE valve seat(s)
Pressure rated to 250 psi (17.2 bar)
Available with gear or electric actuators
---
2950 Series
Cast iron construction
Aluminum/bronze disc with reinforced bi-directional EPDM seat
Pressure rated to 250 psi (17.2 bar)
Available with gear or electric actuators
No end caps — fits between 150# ANSI flanges
---
2925A Series
Lightweight Elk-O-Lite® construction
Self-locking mechanism
Dual neoprene seats with acetal ball
Pressure rated to 250 psi (17.2 bar)
End cap options include: #01, #10, #30, and #38
Furnished with #80 handle for direct operation
---
W-893 Series
3" waterway with brass construction
Flanged, 8-bolt end mounts directly to suction side of Waterous pump
Adjustable, teflon impregnated neoprene seat
Pressure rated to 250 psi (17.2 bar)
Furnished with #60 end cap
Optional check valve seat disk available
---
Drag your finger across the table to scroll
Optional Handle Positions
(800 and 2800 Series)
Drag your finger across the table to scroll
Optional Gear / Motor Positions (2900 Series)
Features
Elkhart Brass apparatus valves are designed for use as inline, suction, or discharge valves and feature the ability to be field serviced utilizing drop-out or swing-out. All valves offer full flow waterways; adjustable, hydraulically balanced acetal balls; a selection of handle types and positions (for manual valves); and a variety of end cap options customized to your needs. Every Elkhart valve is tested to meet NFPA 1901 standards.
In addition to manual and gear actuated valves, Elkhart offers a variety of electronically actuated valves, such as Elkhart's 2900 series, which allow the pump operator to easily and efficiently control the flow of the fire pump from a position at the pump control panel.
How to Order a Valve
Please follow the steps outlined below to order a valve
Step 1: Select base valve type model (ex: 892)
Step 2: Select inlet end cap (ex:-03)
Step 3: Select outlet end cap (ex:-03)
Step 4: Select handle or actuator (ex: -F)
Step 5: Select optional harness
(for electric gear valves as applicable)
Ex: 892-03-03-F
Featured Parts
Valve Controller
Elkhart Brass' new line of valve controllers and valve position indicators is completely self-contained in a box that is more than 50% smaller than competitive units.
These New Products:
Require minimal pump panel space
Are easy to install
Need no maintenance
Feature 100,000 hour LEDs mounted within an optical filter to maximize visibility in bright sunlight
Has durable push buttons that maintain NEMA 4 sealing
---
Electric Valve Kit
Includes:
Valve controller (featuring a chrome bezel)
One (1) harness to valve length (5', 10', 20' — standard, 30' or 40' — please specify)
One (1) harness to power source length (6")
In the case of a primary/secondary situation, two complete electric valve kits would be sent, as well as: a controller to valve harness (5', 10', 20' — standard, 30' or 40' — please specify) and a communication harness (5', 10', 20' — standard, 30' or 40' — please specify
Dimensions
Dimensions currently unavailable.
Contact
mdi
Please fill out the form below and your personal mdi product expert will email you your quote. The more information that you provide the quicker we can send you a quote. Sending an incomplete quote request could mean that we have to contact you for necessary information before sending your quote. And know that our knowledgeable sales staff is standing by to help you with your order and with any questions.
mdi does not advertise prices online. The cost of products is subject to change over time. In order to extend to you the best price that we can offer, we prefer to create written and emailed quotes which reflect any discounts or promotions currently available. Some products can be quoted over the phone, and expediting quotes and orders is always available per request.
See our Terms and Conditions for more information about the mdi sales process.
---
Call us any time Monday through Friday 7:30 AM to 5:30 PM ET.
Phone: +1(813) 241-4900 | Toll Free: 800-761-4298
Fax: (813) 571-0422 | Email or Fill Out the Form Above